Complete Wire Pulling Solutions
We are please to present a selection of cable pulling equipment to assist you with your next cable pulling jobs
3000 lb Tuggers from Maxis and Current Tools
Pulling heavy wire requires the right equipment, here is a selection of labor saving 3K tuggers from Maxis and Current Tools to help make the cable pull easier and safer for the operator.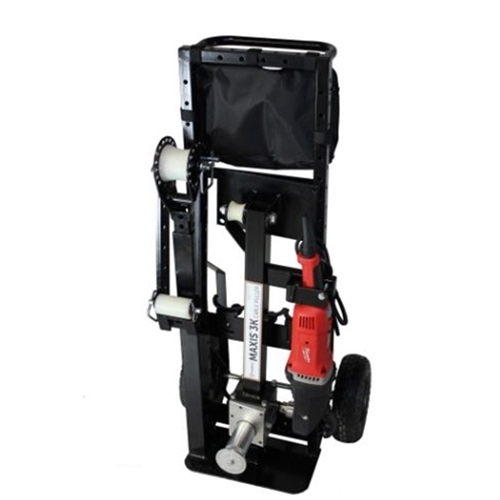 Maxis 3K Tugger on Pull Cart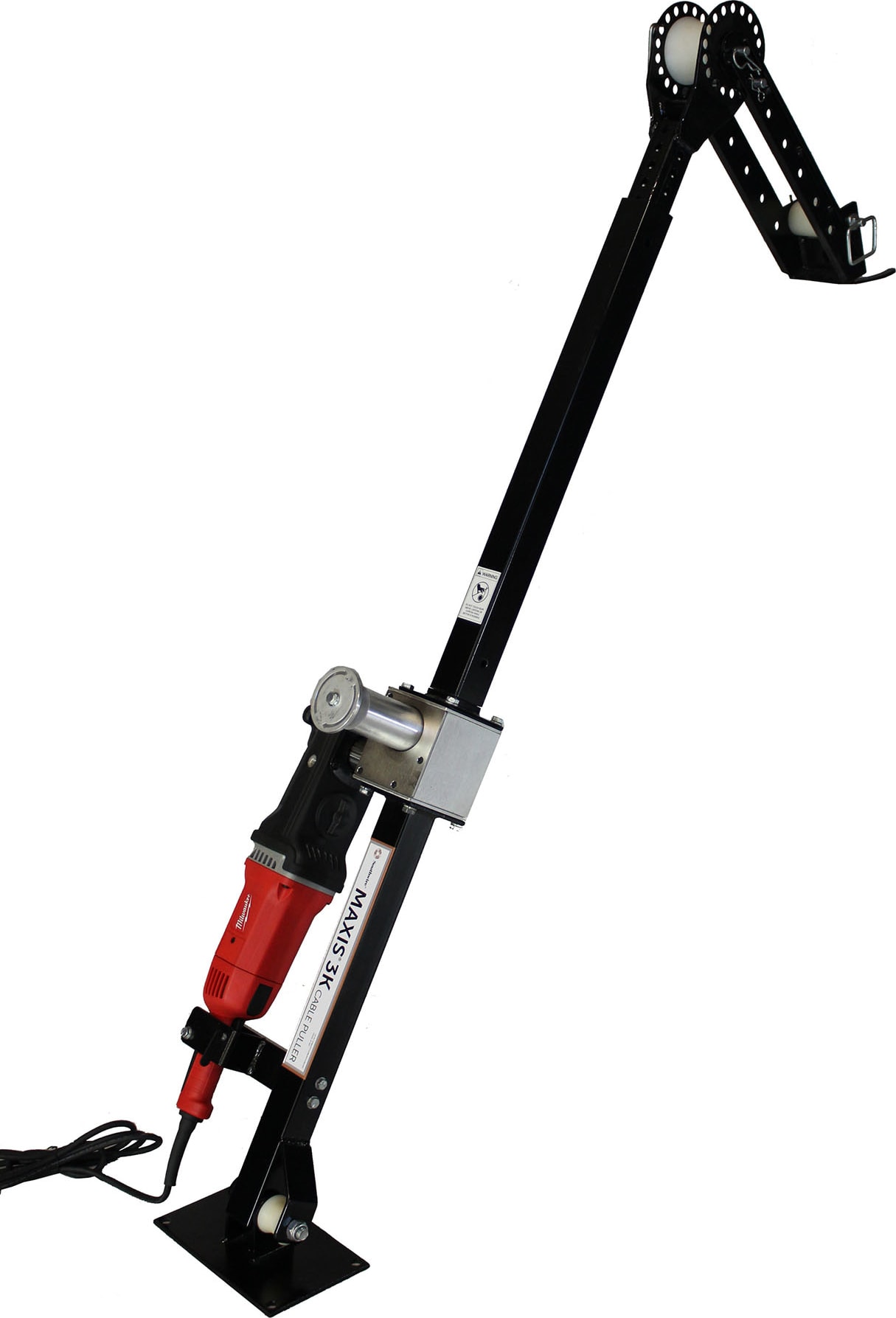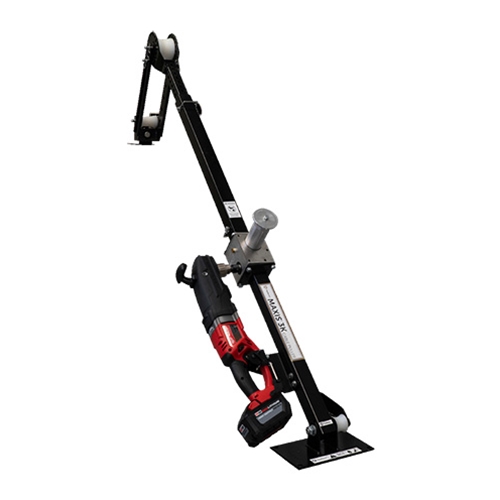 3K Battery driven Tugger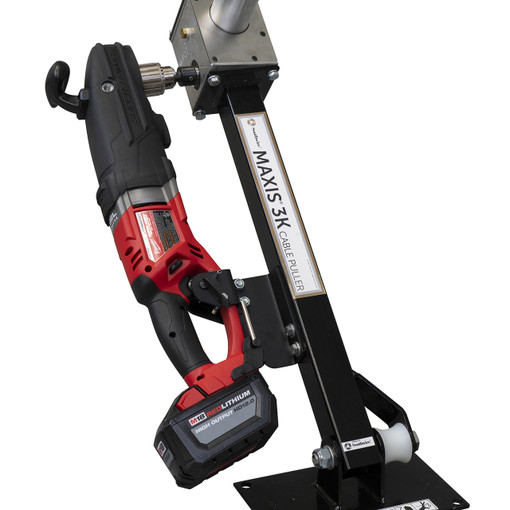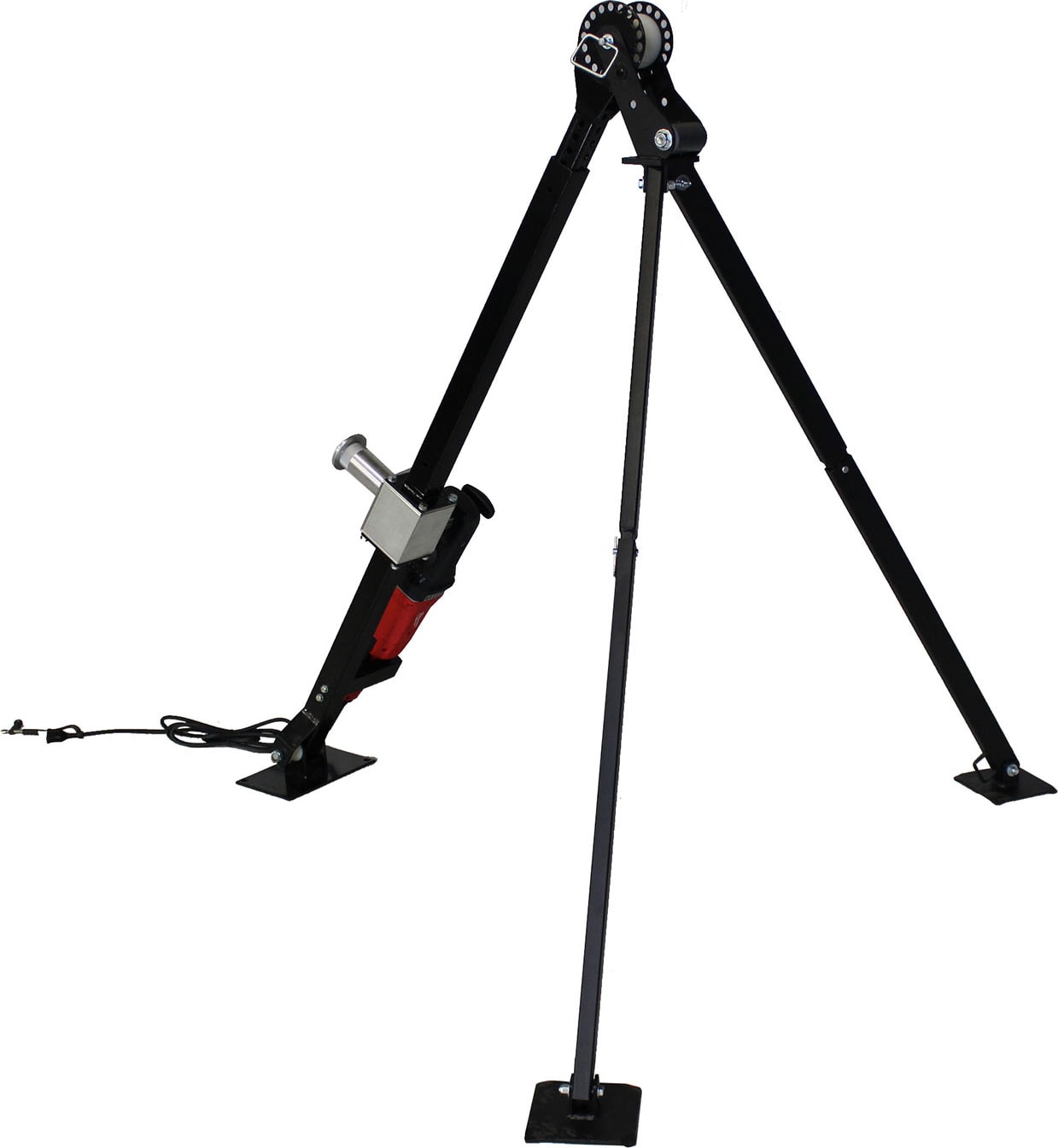 Maxis 3K and 6K Tripods
Features
One person, 2 minute set up and operate

2 Pulling speeds: 25 fpm on low (at no load) and 100 fpm on high (at no load)

Quickly adapts from underground to overhead pulls

No need to bolt to the ground on most pulls

Able to pull up to 8 ft. of wire out of the conduit

3,000 lbs. peak capacity

Versatile, can adapt to virtually any wire pull

Can be anchored to trucks standard 2" receiver hitch
Includes
Milwaukee Super Hawg: 1/2" Super Hawg

, two speed drill, 450/1,750 RPM, 120 volt 13 Amp,

14.7 lbs. Model 1680-20

Puller Cart with tool bag (total weight 35 lbs.)

Conduit adapters 1" through 4"
Call for Price 818-970-1702
Southwire Maxis offers the M3K-BAT, your complete solution for a truly cordless cable pulling experience. Eliminate the need to be near an outlet or having to run long extension cords on the jobsite which can create hazards. No additional parts are required as you will use the pre-existing hardware to assemble the M3K-BAT.
Features
Includes
Maxis 3K Cable Puller

Milwaukee Super Haw Right Angle Drill

Milwaukee M18 Redlithium HD12.0 Battery Pack

Bracket for Cordless Drill
Call for Price 818-970-1702
The Maxis 3K and 6K Tripods are designed to aid in underground wire-pulling. With adjustable leg lengths from 3 - 6 ft. they are ideal for wire pulls from transformer pads, vaults & meter bases
Call for Price 818-970-1702
Current Tools 3K cable tuggers
Manufacturer of industrial tools and equipment for the professional electrician and in business since 1998.
Please view their reliable cable pulling options
A high speed, lightweight 3,000 pound cable puller.

One person, 2 minute set up and easy to operate

Quickly adapts from underground to overhead pulls

No need to bolt to the ground on most pulls

Able to pull up to 8 ft. of wire out of the conduit

Weight with cart dolly 125 lbs

Versatile, can adapt to virtually to any wire pull
Current Tools 3000 lb tugger
3000 lbs. High Speed Cable Puller 33

Integral heavy duty 2 speed motor

Mounts to mobile cart for storage and ease of mobility

No disassembly to store cable puller on mobile cart

Quick release conduit couplings

Tapered Capstan

Integral foot switch

Permanently lubricated vent-free gear box

cable puller weighs approximately 125 lbs with cart

Complete system - no extra parts to purchase

Ships via truck line lift gate requested
Call for Price 818-970-1702
Use your credit card to order through our secure Paypal Cart
Call: Steve Davies 818-970-1702 to ask questions or to place an off line order