HOME
R
RectorSeal Wire Snagger's
Save time and labor costs with this unique cable pulling system.
With spring-activated teeth for a stronger grip, a shorter tool body for better navigation through conduit and longer lanyards for better tool spacing, Wire Snagger's are the best wire pulling tool on the market. It replaces Pulling Grips, Pulling Knuckles and other less efficient and secure methods. Wire Snagger's have been used by electrical contractors nationwide with total success. Wire Snagger's tools are machined from solid high temperature treated stainless steel to exacting standards and their patented design revolutionizes the way that electrical wire is pulled. They are faster, safer and more durable than any other method of pulling wire. RectorSeal has combined experience and ingenuity into a tool that saves contractors time and money on every job.
Getting ready for any large cable pull requires a fail safe pulling head, the RectorSeal wire snagger's are 21st century technology. The 20 piece set of snagger's are individually staggered for optimum efficiency. You'll save money from day one with these secure wire and cable pulling tools, an innovation worth their weight in Gold !
This is a promotional price of $6949.00
The Savings are at least $2000.00 over what you could expect to pay on Amazon, e-bay or at your local electrical wholesaler.
view the wire snagger video, you will be amazed at the speed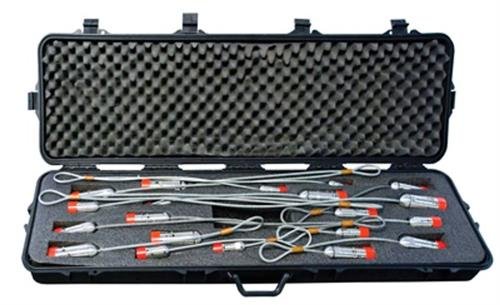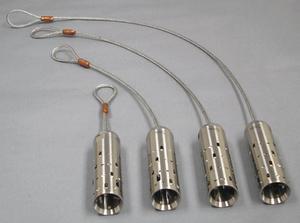 Master 20 Piece Set for use on THHN & XHHN copper wire only
The compete 20 piece set is priced at $6949.00
Contents:

4 ea 3/0 Wire Snaggers with 13", 20", 27", 34" staggard wire lanyards
4 ea 4/0 Wire Snaggers with 13", 20", 27", 34" staggard wire lanyards *
4 ea 350 mcm Snaggers with 13", 22", 31", 40" staggard wire lanyards
4 ea 500 mcm Snaggers with 13", 22", 31", 40" staggard wire lanyards
4 ea 600 mcm Snaggers with 13", 22", 31", 40" staggard wire lanyards
Payment: Visa, MasterCard, American Express, Pay pal.

Purchases: call me anytime to make an offline payment.

Return Policy: 30 days after receipt of product (restocking fee may apply)